Investments you design and control.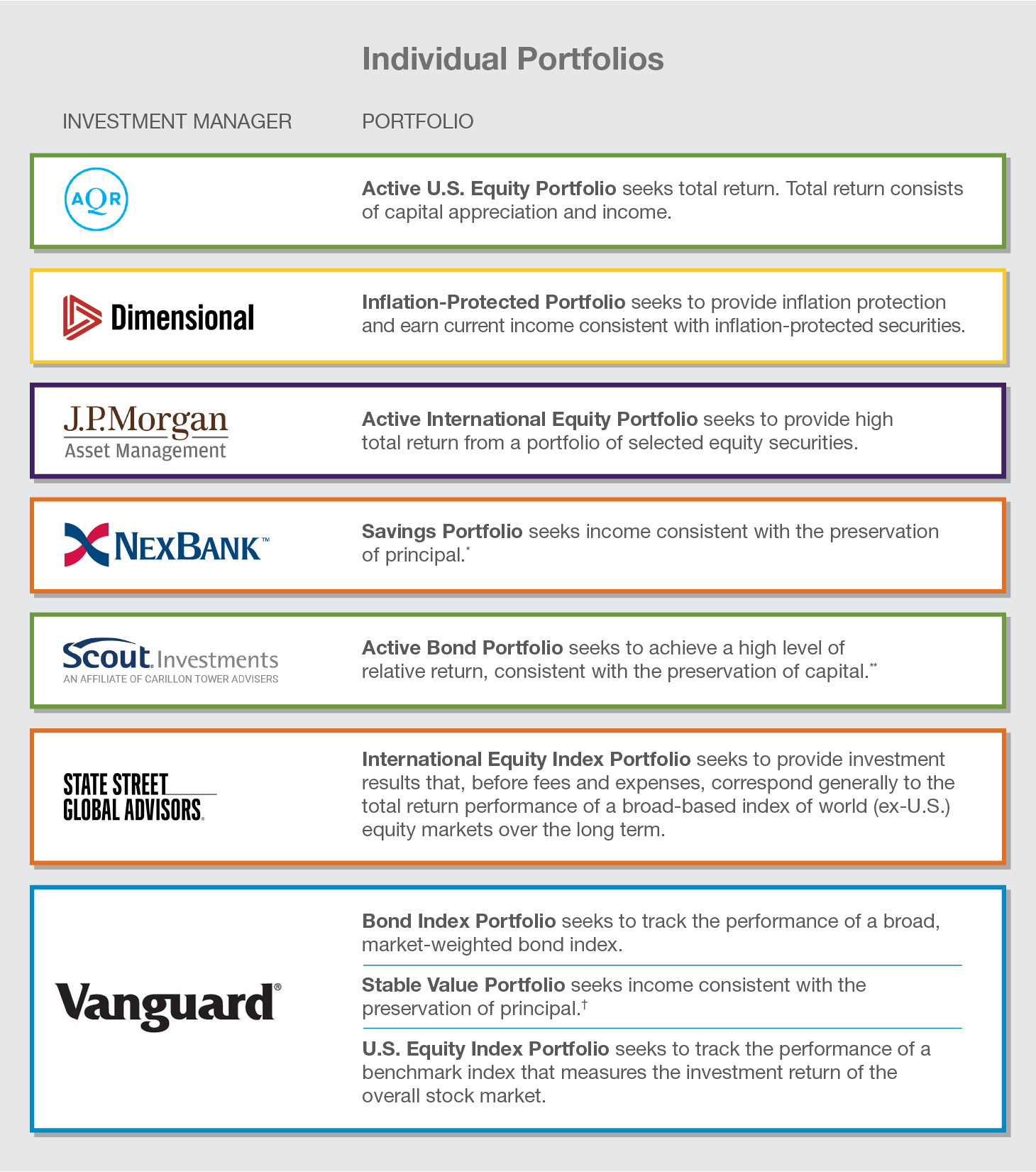 Want a more active role in your college savings? Choose from a range of investment styles from a variety of respected money managers.
Account Owners assume all investment risks as well as responsibility for any federal and state tax consequences.
* The Savings Portfolio invests all of its assets in the NexBank High-Yield Savings Account, ("HYSA"). The HYSA is held in an omnibus savings account insured by the Federal Deposit Insurance Corporation ("FDIC"), which is held in trust by the Indiana Education Savings Authority ("Authority") at NexBank. Contributions to and earnings on the investments in the Savings Portfolio are insured by the FDIC on a pass-through basis to each account owner up to $250,000, the maximum amount set by federal law. The amount of FDIC insurance provided to an account owner is based on the total of (a) the value of an account owner's investment in the Savings Portfolio; and (b) the value of all other accounts held by the account owner at NexBank, as determined by NexBank and FDIC regulations. Except for the Savings Portfolio, investments in CollegeChoice 529 Direct Savings Plan are not insured by the FDIC.
** As a result of investing in undervalued sectors of the market as well as in non-investment grade securities, the Portfolio may at times experience periods of high volatility, especially when the market itself is experiencing dramatic volatility.
† You could lose money by investing in a portfolio which includes the Vanguard Short-Term Reserves Account which in turn invests in the Vanguard Federal Money Market Fund. Although the money market fund in which your investment option invests (the "underlying fund") seeks to preserve its value at $1.00 per share, the underlying fund cannot guarantee it will do so. An investment in this investment option is not insured or guaranteed by the Federal Deposit Insurance Corporation or any other government agency. The underlying fund's sponsor has no legal obligation to provide financial support to the underlying fund, and you should not expect that the sponsor will provide financial support to the underlying fund at any time.